DAEMON Tools Lite is a virtual DVD-ROM emulator based on a SCSI miniport driver. It emulates max. 4 DVD-ROM drives and works with CD/DVD images created by many burning programs.
It's a real pain–not to mention slow–to continually swap CDs and DVDs out of your optical drive. It can take up to half a minute for your drive and Windows to mount a disc. Gamers who must leave a copy-protected disc in the drive in order to play a game are especially affected. Hence pay products that emulate a CD/DVD drive and allow you to mount disc images (files containing all the information from a disc) to a virtual drive. Fortunately for those on a budget, there's a free alternative: Daemon Tools Lite.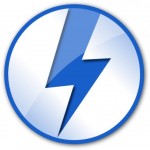 The first thing you'll notice about either Daemon Tools Pro version is that there's a straightforward, easy-to-use GUI–no command line visits for advanced features as there are with Lite. Both Pro Standard and Advanced also support more virtual devices: 16 and 32 drives respectively, and Advanced offers 2 virtual IDE devices in addition to the Lite and Standard version's SCSI devices. Both Pro versions also let you mount the contents of an optical disc to an NTFS folder (instead of a drive) as well as letting you edit images (add, delete files, etc.).
Both the Standard and Advanced versions of Daemon Tools Pro offer cataloging and creation of image files, but Advanced takes things one step further with conversion between various image types. All versions support a number of file formats: plain and compressed ISO files and media descriptor (MDS), for starters, as well as the formats belonging to Blindwrite, Blindread, Nero, CloneCD, DiskJuggler, and InstantCD/DVD images.
Daemon Tools Lite is easy to use. We clicked Add Image, browsed to some ISO images, and added them to the Image Catalog. Then it was a simple matter of selecting drive and image and clicking the Mount arrow. We were able to access our new drive normally in Explorer. Daemon Tools Lite is a great choice for laptops, especially those that lack optical drives. But anyone who uses DVDs or CDs for data or pleasure can save time and power by using virtual disc drives instead of spinning plastic.
The only real negative to Daemon Tools Pro is that neither the Advanced nor the Standard versions (nor the free Lite, of course) handle copy-protected discs.
If you spend a lot of time swapping and hence waiting on CDs or DVDs to mount, Daemon Tools Lite is worth its weight in gold. Even if you don't, it's a program you should download to keep in your bag of tricks–you'll find a use for it eventually.