Split Screen does exactly what the name suggests. It creates a new chrome tab that will let you browse two different sites at once. If 40 open tabs weren't enough, you can now literally double the number of sites you view simultaneously. Just imagine a boring spreadsheet on one page, YouTube on the other. Work and play at the same time, what more could you ask for ?
Get it from here
Prompts the user for two URL addresses and then displays both in one window!
Opens a new tab and prompts the user for two URL's, then displays both sites on one page. Great for cross-reference studying and surfing the web in general! Watch a video, (or wait for it to buffer) while you surf another webpage.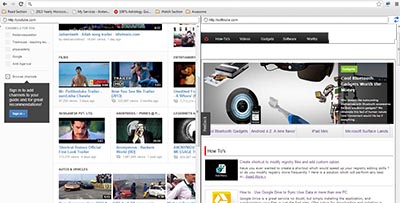 Now has a fully customizable options page… Choose your default webpages to load on opening the extension…
Equipped with a notepad which saves whatever you write for the next time you use the extension… great for studying!!!
Click and drag a bookmark into the URL field…
TURN ON AUTOCOMPLETE to make typing in URL's faster! : Go to tools – options – personal stuff – and enable "form autofill"…
Press F11 for full screen.