In many ways, the iPad Mini is the perfect iPad for a first-time buyer. All the apps you want to use on the full-size iPad are available on the Mini – and this cannot be overlooked. The iPad has by far the greatest wealth of quality apps of any tablet, and they are typically far more than stretched out iPhone apps. This is by far the greatest asset of the iPad Mini, and for many it will warrant Apple's higher asking price.
All of the standard iPad button and switch placement is intact here, save for the move of the speaker grille to the bottom of the device (it's been around back for iPads previous to this version), along with the new Lightning port. And that's a good-sounding set of stereo speakers, by the way. You'll find separate volume buttons on the right side beneath the mute / rotation lock toggle, and the power / sleep button on the top, just as expected. The front of the device is all glass, save for an HD camera in the center of the top bezel (as you hold it in portrait) and the home button on the bottom. There's also a 5-megapixel camera on the back.
Though the iPad mini sports a slightly larger display than other devices in this class, its profile feels extremely lean. Sometimes too lean. The device weighs just 0.68 pounds, and it's only 0.28 inches thick (noticeably thinner than the Nexus 7's 0.41 inches or Fire HD's 0.4 inches). I actually had a little trouble holding onto the device when I wasn't using the Smart Cover due to the back being as smooth as it is, and the frame being so thin. Maybe it's just my big hands, but I wanted a little more to grab onto. In that regard, I prefer the feel of the Nexus 7.
Much has been made about the display on the iPad mini. The IPS screen measures 7.9 inches diagonally, and is 1024 x 768 in resolution. For those keeping count, it's the same resolution as the original iPad. That makes for a pixel density of 163 ppi, which as you might guess doesn't seem too terrific next to devices like the Nexus 7 or Kindle Fire HD (each 216 ppi), Nook Color HD (243 ppi), or the big daddy 4th generation iPad (264 ppi). It's also much lower in pixel density than pretty much any smartphone on the market right now.
But how does it look? Well for starters, it's a really good looking display in general terms. Apple is using the same treatment here as it does on the iPhone 5 and iPad, and it makes for a crystal-clear screen that seems to hover just a tiny bit beneath glass. Colors are vibrant and blacks are deep, and games, photos, and video look terrific.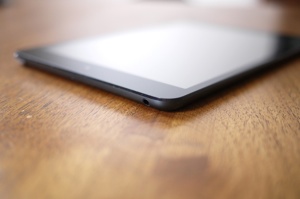 That's only half the story, however. There's no question that to the naked eye this screen does look lower in resolution than its nearest competition. Pixels are noticeable, especially in webpages, books, and when viewing email — and that can be distracting sometimes. Since Apple is the company that's gotten our eyes used to the hey-look-no-pixels trick of the Retina display, it's hard to take a step back and not notice. I don't think the lower resolution is a deal-breaker in this product, but it is a compromise you have to be aware of. It simply doesn't look as clear as other products on the market.
The most popular accessory for the iPad mini will be the new Smart Cover that, despite being both smaller and of considerably simpler construction, still costs the same $39 as the bigger, 10-inch version. That's a little unfortunate, especially because we don't think this version works as well. There is one positive change: the smaller Smart Cover moves away from the aluminum hinge on the bigger version, a good thing because we've seen plenty of scratches caused by that metal-on-metal contact.
It's still attached magnetically, but where the 10-inch model will immediately snap into the perfect placement every time, we found the mini cover just as eager to attach either too high or too low. It requires a little more precision. Hardly a deal-breaker (how often are you removing your Smart Cover?) but a bit of an annoyance.
Specs and cameras
Inside the mini, you'll find specs essentially identical to the iPad 2, save for a few alterations. The system is built atop the two-generations-old A5 CPU, appears to sport a dangerously tiny 512MB of RAM, and ships in 16GB, 32GB, and 64GB storage capacities (I tested the 64GB, Wi-Fi-only version). All the requisite radios are here too: Wi-Fi (802.11a/b/g/n, 2.4GHz and 5GHz), Bluetooth 4.0, and eventually you'll be able to buy a version with CDMA, GSM, and LTE cellular options. As you would expect, a light sensor, accelerometer, and gyroscope are here as well. It really is a mini version of the iPad 2, except for the cameras, which are significantly improved.
As you may know, I'm not a fan of people taking photos with tablets. Just as with previous models I've tested, I find the act to be not only awkward, but embarrassing as well. The slightly more diminutive size of the iPad mini does make the experience slightly better, and its 5 megapixel backside camera is actually not terrible for general shots. In fact, its color tone and low light performance was better than what I've seen on many newer smartphones. It was sometimes difficult to get a clean image due to shakiness, but that has more to do with the odd physicality of taking a photo with a tablet than it does with the actual camera.
The front-facing FaceTime HD camera is fine for video chatting (and I think is a lot more comfortable than chatting with the full size iPad), but won't be useful for anything more than that.
THE VERDICT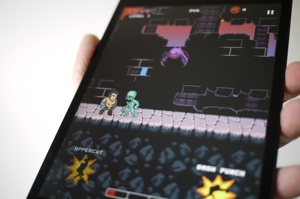 While most technology enthusiasts would be better suited with a full-size iPad with Retina Display (starting at $170 more) or a cheaper 7″ tablet, the iPad Mini is sure to fill a niche for many. Its smaller form factor makes it ideal for traveling and daily commutes, and its construction feels almost inarguably better than any of its competitors.
If your interest is piqued but your tech speck checklist is not fulfilled, wait a year. The iPad Mini 2 is sure to pack all the features you could hope for and by then we'll have even more compelling options (not to mention bustling app stores) from Google, Amazon, and maybe even Microsoft.
The iPad mini hasn't wrapped up the "cheapest tablet" market by any stretch of the imagination. But the "best small tablet" market? Consider it captured.