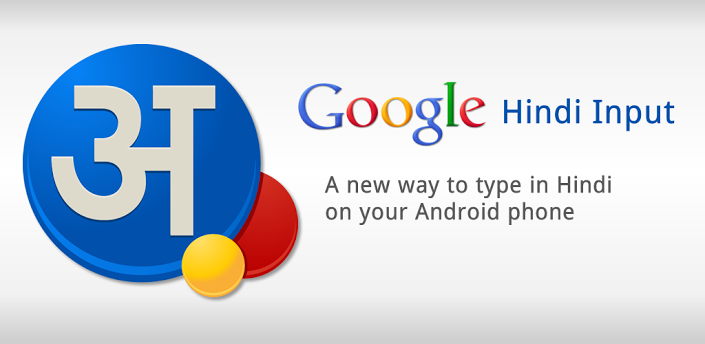 Have you ever wanted to send a text message to someone in Hindi but was unable because your cell phone didn't comes with a Hindi layout keyboard, and suppose even if it comes with it then it will surely consume a lot of time and effort to write a single paragraph.
Google recently introduced his new app Google Hindi Input which let users to type in Hinglish(Hindi in English alphabets) and it will convert it to Hindi for you. If you have an Android smartphone or tablet, Google Hindi Input is the quickest and easiest way to compose emails, send messages and post on social networks using Devanagari script. There are alternatives also available on Google Play enabling typing in Hindi and other Indian Languages : PaniniKeypad and Lipikaar are two such apps. But we will focus on Google Hindi Input first.
Google Hindi Input has two methods for writing Hindi text. In transliteration mode, you simply type a Hindi word in English (like namaste), and the app will automatically convert the word to Devanagari script (नमस्ते). And you can get suggested words in Hindi language when you type some letters only. This will save your time and no need to type full Hindi words. Switching between English to Translator to Full Devnagari Keyboard is super smooth and just a button away.
Hitting the globe button switches to a full Devanagari script keyboard, with Hindi consonants ordered alphabetically on two pages. In this mode, you can long press at any time to select various forms of a consonant.
How to enable keyboard Input method?
Open Settings -> Language & Input, under "KEYBOARD & INPUT METHODS" section, check Google Hindi Input, then click Default and select "Hindi transliteration/Google Hindi Input" in the "Choose input method" dialog.
Don't forget that it will not going to support if your android device does not have Hindi fonts installed. If so then you have to install it first but most of the Indian manufactured devices are pre-installed with it.
Bad Sides:
No voice or handwriting input: The keyboard gives no option to help the user input text using voice or handwriting.
No Gesture Support: There are plenty of android keyboards now who have started gestures a major thing to emphasize on and let user feel comfortable but Google Hindi input still needs to work on it.
Over all, Google Hindi Input offers an excellent option to those who would wish to use Hindi text while communicating through their Android devices. It's simple and intuitive and makes typing in Hindi very easy.
Play Store Link : Google Hindi Input