This was introduced at CES 2014, which took place recently in Las Vegas, MiP is basically a very well balanced robot, a Bluetooth-controlled balancing two-wheeler with gesture sense technology and an app controlled environment. Like us humans, this robot from WowWee has been given a chirpy personality, offering endless fun, i.e. gameplay, dancing, balancing acts, etc. Developed at the University of California, MiP can be easily controlled using your Android or iOS device with the help of an application available on these platforms. In addition, you can control this robot using hand and object movements.
In the box there's an attachable tray, which allows MiP to carry objects around while still balancing upright, and it can even support the weight of another MiP. If you've got a group then they can be linked into a coordinated dance mode, keeping in time with each other like small, glowing line-dancers.
If you're feeling competitive and have more than one MiP in the room you can enter battle mode to box each other, using the app, until one loses its balance.
MiP, which stands for Mobile Inverted Pendulum is actually the product of a collaboration between WowWee and the Coordinated Robotics Lab at the University of California, San Diego. The result of that partnership is a few nifty innovations that, technology-wise, lift the little robot above other recent robot entries like RoboMe (also from WowWee) and Zoomer the robotic dog.
The black and white body, round head and emoticon eyes is quite different. It stands roughly 7-inches tall and has no feet. The base instead features two large wheels. The torso includes a mode light and two pose-able arms. This robot has useless appendages and arms simply serve no purpose. You can't even pose them to hold MiPs tray — MiP has a slot on its chest for that.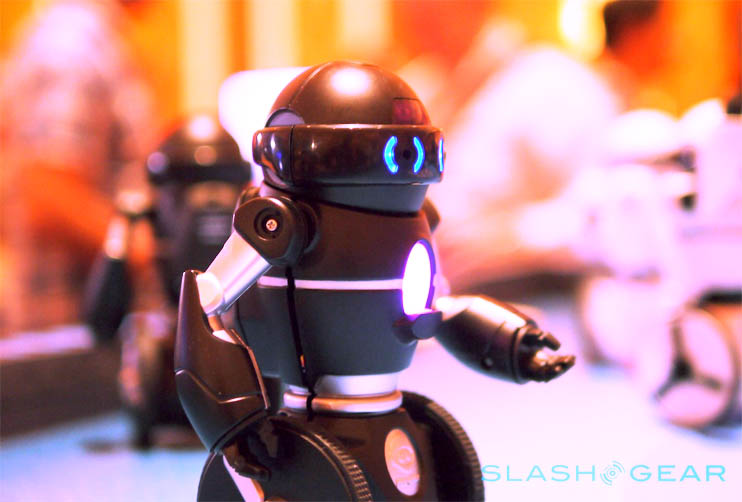 First of all MiP can, without human intervention, balance and move quite effectively on those two wheels. Give MiP a push and it will right itself. The two-wheel locomotion makes MiP highly maneuverable. It's also incredibly easy to connect MiP to your mobile phone via the free app.
When connected to your smartphone, MiP's chest glows green. The app doesn't look like much, but once connected to MiP, it gives you impressive control over the robot. Using two thumb-driven virtual joysticks, one to control direction and the other speed (as well as whether it's traveling forward or backward), Then you will be able to maneuver MiP around obstacles with ease — it can responded smoothly to the slightest thumb movement.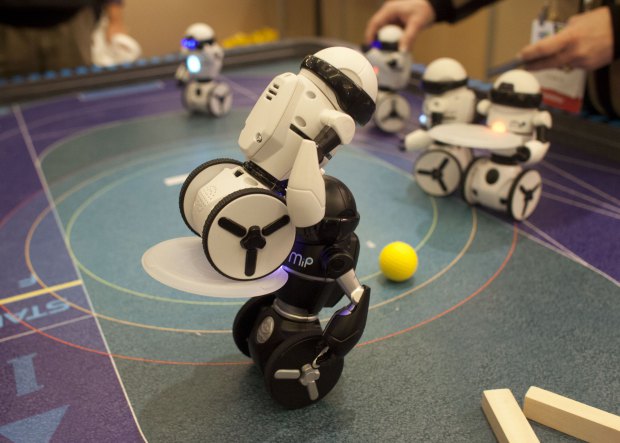 MiP is not the best toy robot, but it may have the most potential. If WowWee continues working with the researchers and adding features to this app, we may soon discover that MiP has a whole new set of capabilities. Is the battery-powered robot worth $99.99? It's a bit more expensive than Zoomer, but the technology inside may be more sophisticated. Plus, you get that app. On the other hand, MiP does need work. Its autonomous modes are confusing and somewhat disappointing. It can only stack if you drive and those arms are an embarrassment.
Final Conclusion
Pros:
The self-balancing technology is impressive.
The remote-control app is spare, yet easy to use and makes driving MiP a breeze.
It really can balance and carry a load.
Epic synchronized dance.
Cons:
Modes are not engaging.
Arms are useless.
Needs more polishing.