Though primarily known for its CD- and DVD-burning prowess, the newest version of Nero Ultra proves to be a full-fledged media workhorse. The installation file is big and takes awhile to load; also, once Nero is on your machine, it consumes a hefty serving of memory. Considering all it can do, though, we can only complain so much.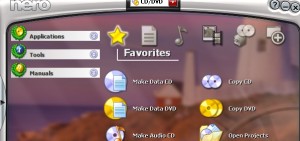 Nero 7 delivers enormous functionality for the money and boasts one of the slickest and best-integrated interfaces we've seen in a digital-media suite. It falls behind Roxio 8 in areas like disc authoring and video editing, but it's still flexible enough to satisfy the overwhelming majority of both mainstream and advanced users.
Nero 7 Premium enables you to experience your digital media in completely new and innovative ways. With the addition of a Nero Home media manager, you can now have the complete PC and TV experience. Whether you want to access your media files from the comfort of your living room, or complete digital media projects on your PC, Nero 7 Premium is all you need. Now, with more features than ever before, this powerful software can transform your digital photos into professional animated slideshows, backup all of your valuable data, manage or search your media files, edit video or photos, create DVDs (including menus), and stream your files over a media server, and compress files to take on the go. Beginners and experts alike will be amazed by what one solution can do. Really, it's that good.
Nero 7 Ultra Edition takes and already-strong multimedia suite and enhances its core functionality, making it the best choice for users who need more advanced audio and disc-mastering features.
The good
It's still fast, it's still easy and it's even better. When it comes to burning, you really can't get any better than Nero period. This package is great since it includes easy to use video, audio and data burning applications.
The Bad
I feel as though they overlap the functionality of a lot of these apps. With Express you can do any of the following video, data or audio burns without opening the specified one. Although I understand the use of specialization, Express can easily handle nearly any job you will probably do.
Nero premium 7 is a great overall package. It has applications for nearly every burning aspect. Although it's a bit pricy, there's good reason since it includes incredible applications for specified uses while staying generally open to user's needs.
Nero also offers more generous support policies that include frequent free upgrades for the life of Nero 7 and ten days of unlimited telephone support.
Official link : http://www.nero.com/