Doctor Who fans, you simply have to get this gizmo. Non Doctor Who nerds, this will appeal to you as well. Resembling the fabled Sonic Screwdriver from the cult british show (or a mysterious glowing probe), this programmable universal infrared remote lets you interact with any TV with gestures. With 13 supported gestures and 3 memory control codes. Enough to control most Earth-based "low-tech" consumer devices, we reckon.
The sonic screwdriver is a fictional tool in the British science fiction television series Doctor Who and its spinoffs. It is a multifunctional tool used by The Doctor. Its most common function is that of a lock pick, but can be used to perform other operations such as performing medical scans, remotely controlling other devices and tracking alien life. It can, with the exception of a deadlock seal or wooden lock, open any type of lock and operate many computers, whether their origin is alien or human. Though all this was only limited up to TV but still you can show off your über cool Screwdriver as a Universal Remote.
Here is sneak peek of how the original Sonic Screwdriver work :
Compatible with almost all home entertainment equipments, such as iPod docks, TVs and Blu-ray players.
Guided Setup: teaches you how to use it with spoken prompts.
FX Mode: thirteen authentic special effects sounds from the universe of Doctor Who.
Bright illuminating tip: lights up in use and pulses when in standby.
Advanced gestures recognition technology: thirteen gestures multiplied by three memory banks means up to 39 remote control codes can be stored.
Hand polished: copper plated, high quality, die-cast metal construction.
Special features: Personal Lock Code facility and secret communication to discover.
It is packed with advanced electronics that help make it the most realistic Sonic Screwdriver ever built.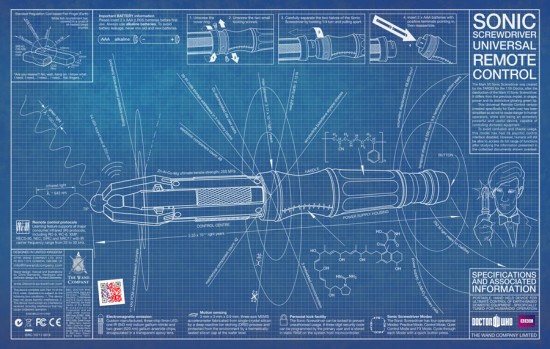 Electromagnetic emission: The sonic Screwdriver gets its classic green glowing tip courtesy of a hyper-bright green LED. however, as the tip in this also has to emit the infrared pulse of a remote control, a multi-wavelength solution is needed. The result is a custom manufactured, three-chip 5mm LED: one IR indium gallium nitride chip and two green gallium arsenide chip, encapsulated in a single transparent epoxy lens.
Motion Sensing technology: at the heart of this, a tiny state of the art three-axis accelerometer constantly measures the forces acting on the device so that the embedded microcontroller can determine if the Sonic Screwdriver is being moved. The silicon MEMS sensor is so sensitive that it can detect and measure 1000th of the force gravity. The accelerometer is fabricated from single-crystal silicon by deep reaction ion etching (DRIE) process and protected from the environment by a hermetically sealed cap at the water level.
One more thing is this gizmo comes complete with its own protective and attractive display case Fabricated from engineering grade ABS, the tough, crystal clear cover fits snugly over an analogue of the TARDIS console. The stand is decorated with authentic Gallifreyan script and provides the perfect containment, mounting and presentation for a Sonic Screwdriver of this quality.