The new smartphone from Google
With your favorite Google Apps, an amazing Photo Sphere camera, cutting edge hardware, and access to your favorite entertainment on Google Play – Nexus 4 puts the best of Google in the palm of your hand.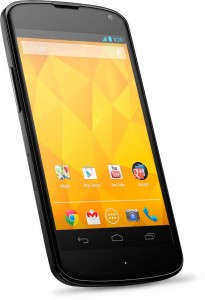 Google's Nexus (ten points to anyone who can tell us if Nexi is the correct plural) smartphones have always set the standard when it comes to a pure Google experience.
The first Nexus One was a true geek device. Sold only through Google directly (apart from a brief flirtation with Vodafone), it never achieved massive sales. But it gave the world the true raw power of Android without the bloatware of other variants. As of January 2010, the ball was well and truly rolling.
We've had several now – and everyone, it seems, had a go: HTC, Samsung, Asus and LG – though strangely, not Motorola, which is now part of Google itself.
The design of the LG-made Nexus 4 is very much an iteration of the Galaxy Nexus. That is, you kind of can't tell the two apart if they're sitting next to one another on a table. It's when you get closer that you begin to notice the differences — and there are many significant differences.
For starters, the device is made mostly from glass. Gorilla Glass. The screen is coated smoothly from edge to edge, and it almost feels like the glass is melted over the sides. Google's head of user experience Matias Duarte claimed that the curved sides helped swiping left or right on the phone, and much to my surprise, it did seem to make things easier to shuffle around near the edges of the screen. The back is flat glass with a holographic stipple pattern which you can't always see, but looks playfully futuristic in the right light. The two glass surfaces are joined by a soft touch band which wraps around the entire device, giving it a solid, weighty feel in your hand.
Performance and Battery Life
Google says the Nexus 4 is the fastest phone around right now. Whether that's true or not, I can say that performance and responsiveness on the device is second to none. It's a very speedy phone that barely ever hesitated or failed to respond to my touches or commands. In particular, multitasking between a number of applications was no issue for the phone, buoyed up — I presume — by that generous 2GB of RAM.
Battery life was also top notch. I'm used to getting just about a day of use on my Galaxy Nexus (that's taking it off of the charger around 8AM or 9AM, and putting it back on around 2AM). Some days it doesn't quite make it that long, depending on my workload. The Nexus 4 fared much better. At the time of this writing, I've had it off of its charger for 10 hours and 30 minutes and it's still got 45 percent battery life. Yesterday before I plugged it in, I'd had it off the charger for 16 hours, with 18 percent of its juice left. To say it's holding up for full work days would be an understatement; even with heavy use, this battery more than pulls its weight.
 Specifications and Display
Inside, the Nexus 4 shines with an impressive set of specs. The phone's beating heart is Qualcomm's Snapdragon S4 Pro clocked to 1.5GHz, which Google says makes this the fastest phone on the planet. I'm not sure that's an empirical fact, but the device was extremely snappy. It also houses a healthy 2GB of RAM, and is available in an 8GB or or 16GB version (I tested the 16GB version). There's no SD slot here, so you're stuck with a relatively small amount of onboard storage, especially on the cheapest version. There's also a non-removable 2100 mAh battery inside.
You'll find the typical compliment of Wi-Fi radios here (802.11 b/g/n), Bluetooth 4.0, NFC, and interestingly, built-in support for Google's newest accessory, a wireless charging dock that looks a lot like the Palm Touchstone. One thing you won't find, however, is LTE. The device comes equipped with HSPA+ radios, which will work just fine on T-Mobile or AT&T here in the States, and on the majority of carriers in Europe and the rest of the world. There are no plans at the moment for any other variations of the phone that I know of.
GOOD STUFF
Improved build quality
Android 4.2 is fantastic
Excellent price for a device of this caliber
BAD STUFF
Lacks LTE
Screen a bit washed out
Glass backing breaks easily
No expandable memory
Camera could be better